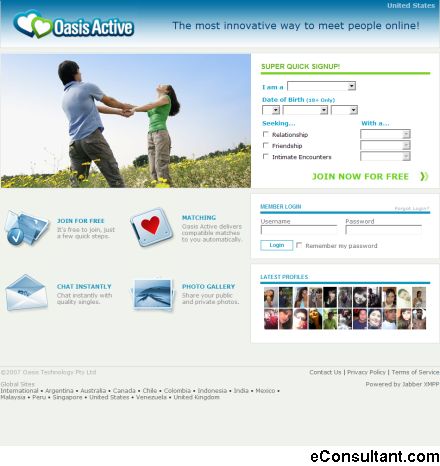 So this stupid dating website,
Oasis Active
, has constant ads airing on Australian TV that I am really getting sick of seeing. They make some statements like "3500 people find love every month!", and "We now have over 1 million members signed up in Australia!"....
Wow... 3500 people finding love every month you say? And, 1 million members signed up from Australia?? That's impressive considering that's about 1 in every 21 people, yet I don't know a single person on this website. I do know that I know more than 21 people, so the law of averages would suggest I'd have quite a few more than 1 friend on it. Maybe they don't overtly advertise the fact, or maybe they're getting caged monkeys set in front of laptop computers to make accounts constantly.
Either way, let's pretend that Oasis Active's claims are real. So every month 3500 of these 1 million desperate single Aussies are falling in love after meeting on their website. The number, 3500 seems like a lot, but when that number is converted into the proportion it represents of the 1 million online singles it equates to 1 in every 143 people finding love each month. Not so impressed anymore... "Why not?" you ask. Well that would mean that the average person has to wait 143 months before finding love on this website... which equates to no less than 14.4 years.
Next time you're thinking about signing up to one of these sites, think the better of it and go out somewhere and socialise with real people and not your computer screen. Or just stalk your Facebook friend's friends like everyone else!